It's a new year, which is a cause for many to reflect. One thing you may not think back on is your child's toys. However, if you're educating your child under the Montessori philosophy, it's important that you reflect on your child's development on a regular basis, and that includes which toys are working for them.
Wood is one of the most popular types of material for Montessori toys, but these toys do vary greatly, so it could be hard to pick the right one.
To help you out, we'll explain why wooden toys are so popular in Montessori and give you our picks for the best Montessori wooden toys for your child this upcoming year.
What Makes Montessori Wooden Toys Good?
In Montessori, toys should be simple to minimize distractions and allow your child to get the most out of the object. That goes for the material they are made out of as well. Natural materials such as fabric, metal, and wood are preferred in Montessori education, and there are a few reasons why.
Wood gives your child a better understanding of the world around them as it is a material that is more connected to the real world.
What's more is that the texture of the wood helps with your child's development of their senses by helping them focus on the task at hand.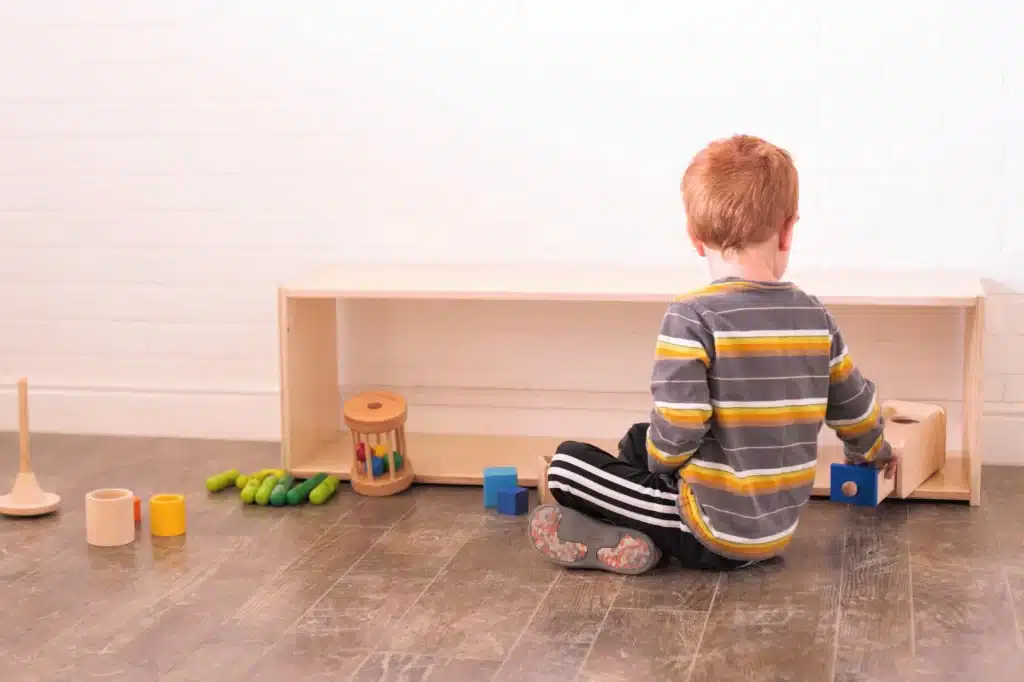 Best Montessori Wooden Toys
Wood is a great material for Montessori toys, but what types of toys should you seek for your little one?
Here are some of the best Montessori wooden toys and materials that you should consider adding to your child's toy collection.
Wooden Balance Board
The wooden balance board is one of the most popular Montessori wooden toys out there, as it helps your child work on one skill at a time while remaining versatile.
This wooden board is not only versatile, but it's also functional and simple. The curved board will teach your child different movements and allow them to apply the object to different scenarios.
The balance board can be used for several other purposes, including:
A small slide
A seesaw for two
A table on the floor
A bridge during play time
A slide for balls or cars
The balance board also helps your child control their balance, coordination, and eye movements, and it supports the muscles that are responsible for your child's correct posture.
With so many uses, this wooden balance board will keep your child's mind working for years to come. If you don't have one for them already, you might even consider making this toy their introduction to Montessori learning.
The Pikler Triangle
When you ask Montessori educators about the best Montessori wooden toys, the Pikler Triangle is often amongst the first toys mentioned.
The Pikler triangle is a climbing toy meant to encourage children to explore their motor development in a safe environment while also encouraging their independence and problem-solving skills.
There are three components to the Pikler triangle:
The entire set comes apart so that your child can use each piece on its own. Both the arch and the climber make great climbing toys, while the ramp or plank is versatile and can be applied to several uses. Your child can explore each component on their own to discover the differences in shape and learn how to approach each one.
Combine the three pieces to create the best learning experience for your child. Depending on your child's stage of learning, they may start to explore this toy at as young as six months to enhance their motor skills and cognitive development. It's possible that your child can use the Pikler Triangle until about age five.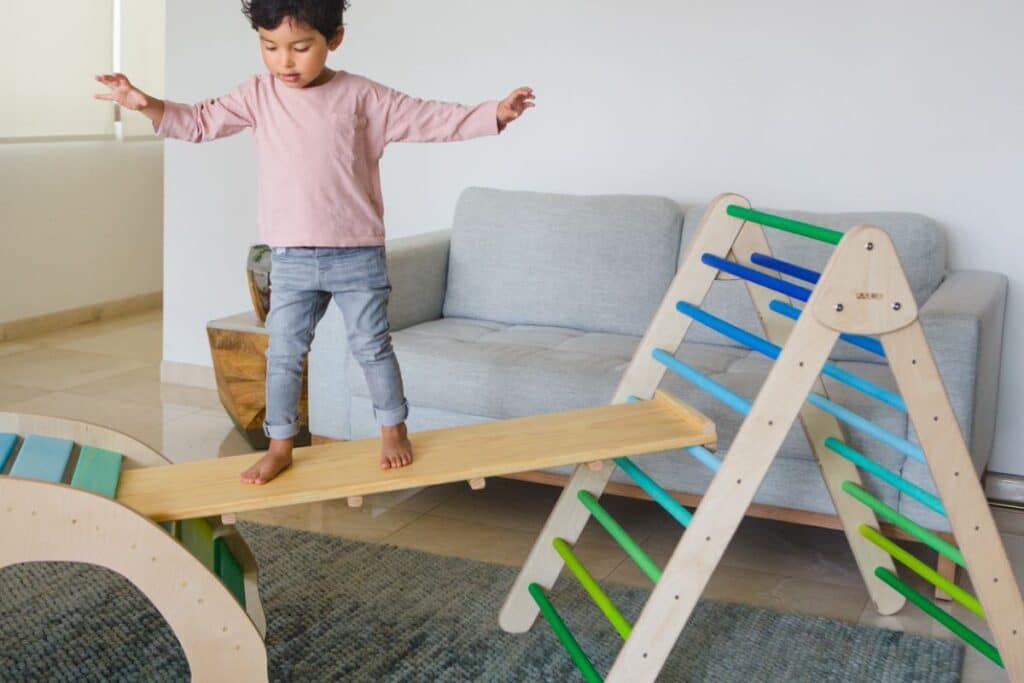 Wooden Balance Beam Set & Wooden Stepping Stones
Similar to the Pikler triangle, a wooden balance board set encourages motor development, independence, and problem-solving skills.
Many parents prefer beam and board sets like these as they take up less space, are more portable, and can be easily stored away out of sight.
Wooden Puzzles
Wooden puzzles are a great activity for children of all ages. These large alphabet and number pieces are a great way to introduce your child to literacy. Your child can start by sorting and matching the pieces to their respective slots, then work their way up to combining them to create simple words or two-digit numbers.
The smooth wooden characters are raised for easy grasping and to capture your child's attention, and the overall Montessori wooden toy encourages sensory development and brain stimulation. As one of the most affordable toys on this list, adding some wooden puzzles to your child's toy collection is a no-brainer.
For older children, consider wooden map puzzles as a fun introduction to geography, such as continent puzzles or a United States state puzzle.
Wooden Rainbow Stacker
While a wooden rainbow stacker is not exactly Montessori per say, they do fulfill some Montessori ideals, and therefore they can be found in many Montessori aligned homes and classrooms.
Concrete ideas like sorting color and sorting size are strongly enforced with these rainbow-colored semi-circles. They can group all of the cool colors and then all of the hot colors, they can mix up the colors to make different design patterns.
They are also able to sort out the really big wooden pieces and group all of the smaller pieces. Or they can compare the sizes and pair a really large with a really small.
Children can stack these wooden items in different architectural designs, seeing which ones fall over, which ones can hold more weight.
Wooden stacking rainbows can also be used to create fences, build castles, create colorful trees, etc. Children will be able to create what is in their minds or mimic what they have seen in their lives. 
There are several beautiful variations to the wooden stacking rainbow that are well loved by children of all ages.
Montessori Wooden Toys – Final Thoughts
Wooden toys have always been a staple of Montessori learning. The natural material helps your child focus while working on their senses and keeping them calm.
Luckily, there are a variety of different Montessori wooden toys available to add to your child's learning materials, no matter what age they are. You'll enjoy watching them discover the world while playing with their new favorite Montessori wooden toy.