Montessori educational philosophy is based on a belief that children are individuals with creativity and curiosity that require hands-on experiences to thrive. In other words, our children learn best when multiple senses are engaged, and they are using their bodies and minds to explore the world around them. It is why the Montessori method uses multi-sensorial educational materials, including Montessori furniture (also known as "adaptive furniture"), to help children learn.
Since children learn from everything they observe around them, you want to give the best for your children to facilitate the learning process. Therefore, you must furnish your home with attractive and functional furniture that is affordable.
What is Montessori Furniture?
Montessori furniture is specially designed for multi-sensory learning. The pieces allow children to develop active engagement with an object to discover its functions while promoting coordination, fine motor skills, and analytical thinking. In essence, this process prepares children for future tasks involving problem-solving and critical thinking skills.
Furniture used in Montessori education should be crafted with solid wood or high-density particle wood, which can withstand the demands of regular use. Montessori materials are also non-toxic and free from harmful chemicals that can cause developmental issues when exposed to a child's skin, mouth, or eyes. Lastly, it is vital to consider the quality of the finish on all materials and assembly instructions so you can ensure pieces are safe for your children.
How Montessori Furniture Helps a Child's Development
There are many ways that Montessori furniture supports a child's development. For example:
Active Engagement: The educational materials used in the Montessori method encourage children to become actively engaged in their environment. Children learn by interacting with objects, which helps them develop gross and fine motor skills as well as improves hand-eye coordination.
Independence: The multi-sensory aspect of Montessori furniture allows children to explore things around them independently, which is one of the main principles of Montessori education. Children can engage in self-discovery through activities that involve materials the child recognizes, such as a favorite picture book, favorite toy, or a blanket they've been sleeping with for months or even years.
Coordination: The use of multi-sensory materials helps children develop coordination skills and hand-eye coordination. It also promotes the ability to analyze objects and understand their components so they can build meaning from experiences. This skill is vital to future learning when children begin to work with numbers, letters, shapes, etc.
Critical Thinking: The multi-sensory nature of Montessori furniture allows children to develop a more structured understanding of an object. It helps them understand how things are built and learn about an object through various aspects, such as differences between parts, colors, and textures. Critical thinking is vital to future learning when children are taught to create new systems from old ones or make predictions about what will happen when developing new systems based on the available information.
Social Development: The learn-through-play nature of the Montessori method promotes social development through a child's daily interactions with materials in their environment. Social interactions are promoted through cooperative activities, playing, and sharing with the child's peers.
Types of Montessori Furniture that Support Child's Development
There are many benefits to using Montessori furniture. First, it allows the child to become hands-on with learning materials that promote their sensory development. Second, the child can develop a great understanding of how the world works and learn through observation and experience. These are the examples of Montessori Furniture you can have in your home to support your child's learning and development.
1. Montessori Cube Chair
The cube chair provides a comfortable, sturdy, and safe seat for children to sit while working with manipulatives (examples: Movers, Percussion, Meccano) or completing lessons on the floor. Montessori suggested that children up to age six should use a cube-shaped seat as it's lower to the ground and better supports their backs.
2. Montessori Table and Chair Set
The table and chair set allow the child to work at a table-top level positioned to reach their materials quickly. Montessori determined the tables to be one of the most important pieces in a classroom and home. It enhances the child's ability to learn in an organized, efficient manner. In addition, the tables allow the child to work more independently by placing their work within reach rather than having them crawl on the floor for materials. The chairs have a spindly appearance similar to a very conventional school chair and are designed to support the child and sit independently.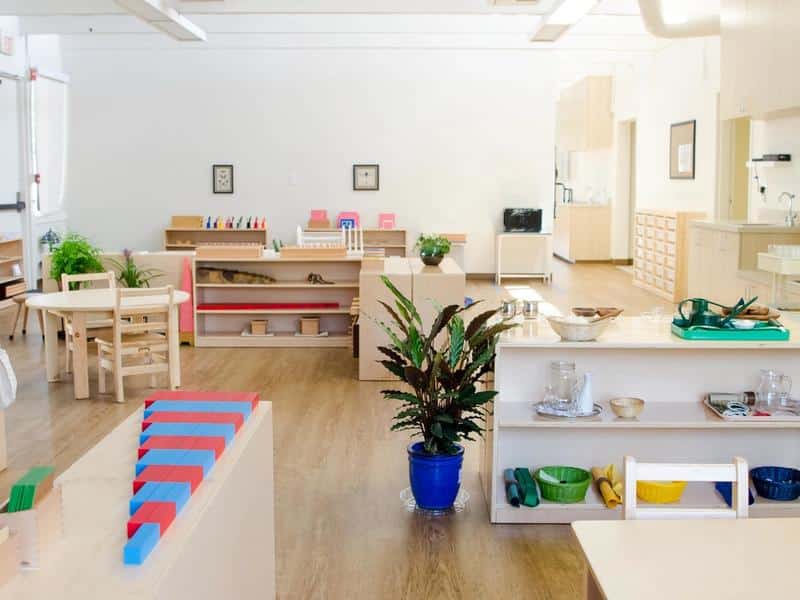 3. Montessori Box with Bins
The Montessori Box with Bins is another item that has been designed to reduce the physical strain caused by the movement for children. It is particularly recommended for children who are in preschool age. But if your child is already a pre-schooler, this Montessori box will help them get better ideas and concepts about bin management.
4. Loft Bed
Not everyone has the opportunity to buy a bed that's specifically designed for their child's needs. The loft bed provides your child with a place to climb, an area to explore, and most of all, it will allow them to have fun and actively engage in their learning. It's also great for use when the child is sick or injured as they can climb into bed and not have to lay on the floor while lying down.
5. Montessori Desk
A desk is a great place for a child to organize materials, work on their lessons, and do homework. They can create a 'home-like environment that promotes a comfortable and efficient workspace while providing the child with a sense of function and control. It also encourages the children to work on their own as they don't have to worry about disturbing someone else if they have to use their materials or get up and search for something. The desks are commonly made of wood and have drawers to store the materials children work with. Additionally, it provides the child with a comfortable place to sit and read.
6. Kids Kitchen Step Stool Helper
Kids love to help in the kitchen. This Montessori furniture allows kids to do this safely and efficiently while giving them a sense of independence. The stool has a wide base that helps your child feel secure while reaching high places. It also encourages them to attempt tasks that they would otherwise be unable to do independently, such as cleaning or read something off the top shelf.
7. Montessori Kids Shelves
Montessori materials are used and placed within the child's reach so that they can explore and plan their activities. It encourages the child to work independently and go after their interests, excelling at whatever they decide to be an expert in. Shelves are also needed for the child to store their books, toys, etc. It is an excellent way for them to learn how to organize things because it is within their environment. It also allows them to develop organization skills and critical thinking skills.
There are many pieces of Montessori Furniture you can buy to support your child's development as well as your home. Encourage your child to get involved in as many activities as possible and venture out into the world around them using their imagination and creativity. Tell them to have fun learning, explore, and create their memories.