Setting up a Perfect Montessori bedroom is really simple. All you need is to provide a safe environment where the basic principles of the Montessori method can be applied.
The child's bedroom is not only used for sleeping, but also for other purposes, so we can divide the Montessori bedroom into four areas
Sleeping area
The most prominent feature of a Montessori bedroom is a floor bed.
Cribs are not recommended here as they do not allow the child to move freely and make the child completely dependent on the parents.
Although the typical house-like bedframes (also known as the Montessori bed) are very popular and children love them, they are called "Montessori" because they are placed on the floor, not because of their specific shape.
Floor beds have many benefits:
They promote independence – there are no cage-like bars, the child can get in and out of the bed freely
They are safer – you don't have to worry about your child falling out of the crib, the worst-case scenario is rolling to the ground just a few inches away
They make the transition to a "big bed" easier – once a child is accustomed to the floor bed, it is much easier to transit to a big bed later
Letting your child sleep on the floor may sound weird at first, but sleeping on the floor is actually quite normal in many cultures.
Play area
Most Montessori bedrooms include a small toy shelf, even if the child's main play area is located elsewhere. The reason is simple—it helps your child stay focused if he or she wakes up early.
A Montessori play area should be a "space of yes"—an environment that allows children to move freely without parental supervision.
The point is to make sure the place is free of any danger. That way, you can rest assured that even a few minutes of alone time after waking up (or before going to sleep) is safe for your child.
Here are some practical tips for furnishing the play area:
Provide a playmat or a soft rug where the child can play safely
Put the toys on a low shelf so that the child can reach them easily
Provide a limited number of toys or try toy rotation (check out our detailed guide for more information on Montessori toys)
Make sure the room is babyproofed (cover the electrical outlets, make the blind cords out of the reach, etc.)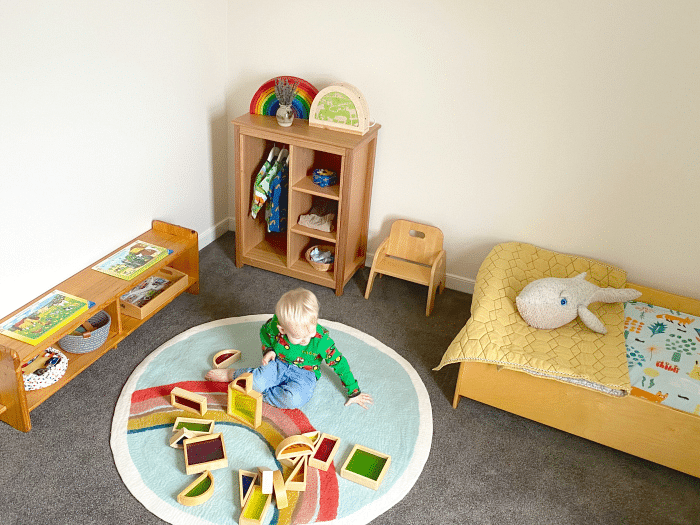 Dressing area
Having a dedicated changing and dressing area fosters a child's independence and responsibility for their own choices.
The closet should be easy to access, so that it is convenient for children to choose the clothes they want to wear (of course, you can also prepare a few clothes you like).
You can also hang a small mirror and keep hair brushes or hair ties on the shelf to promote self-care.
A children's wardrobe is the perfect piece of furniture to help develop daily habits such as picking out clothes, dressing or organizing them.
Reading corner
A reading nook is another popular feature in a Montessori bedroom.
All you need is to create a small, cozy area dedicated to reading. You can make the place more cozy with soft rugs, cushions or a "reading tent".
Reading is the perfect activity to add to a bedtime routine because it helps children calm down before bed. And older kids will also happily wake up to some peaceful reading time.
Conclusion
Sleep is very important to children's development because it is vital to their physical and mental health.
Besides the environment, there are many other factors that contribute to healthy sleep hygiene (e.g. limiting screen time during the day, regular bedtime, room darkness)
We hope this article helped you understand what a Montessori bedroom looks like!