An ideal playing room for a child is spacious, well-lit, and beautiful. The child needs to feel safe and confident there. However, a kid's room is also a space for education, development and personal growth. Nowadays manufacturers and educationalists are looking at the ways to comfortably introduce a child to the learning process. With the help of toys, sensory wall panels and foldable furniture they help the child to develop their physique, as well as gross and fine motor skills. In our article we shall discuss the ways to make your child's playing room a place of entertainment and learning with the help of some of the best wall decoration ideas.
Why Early Learning?
There are different views on the concept of early learning. Its supporters claim that the earlier the children are allowed to discover the world, the more adaptable they will grow. The opponents argue that children should enjoy childhood, and learning will come later at school.
The truth is that children naturally want to know more about the world. Hence early learning is about helping children to discover the bigger world through senses, colors and basic skills, i.e. on their terms and at their pace. Playing games and using colorful materials are ideal means for early learning.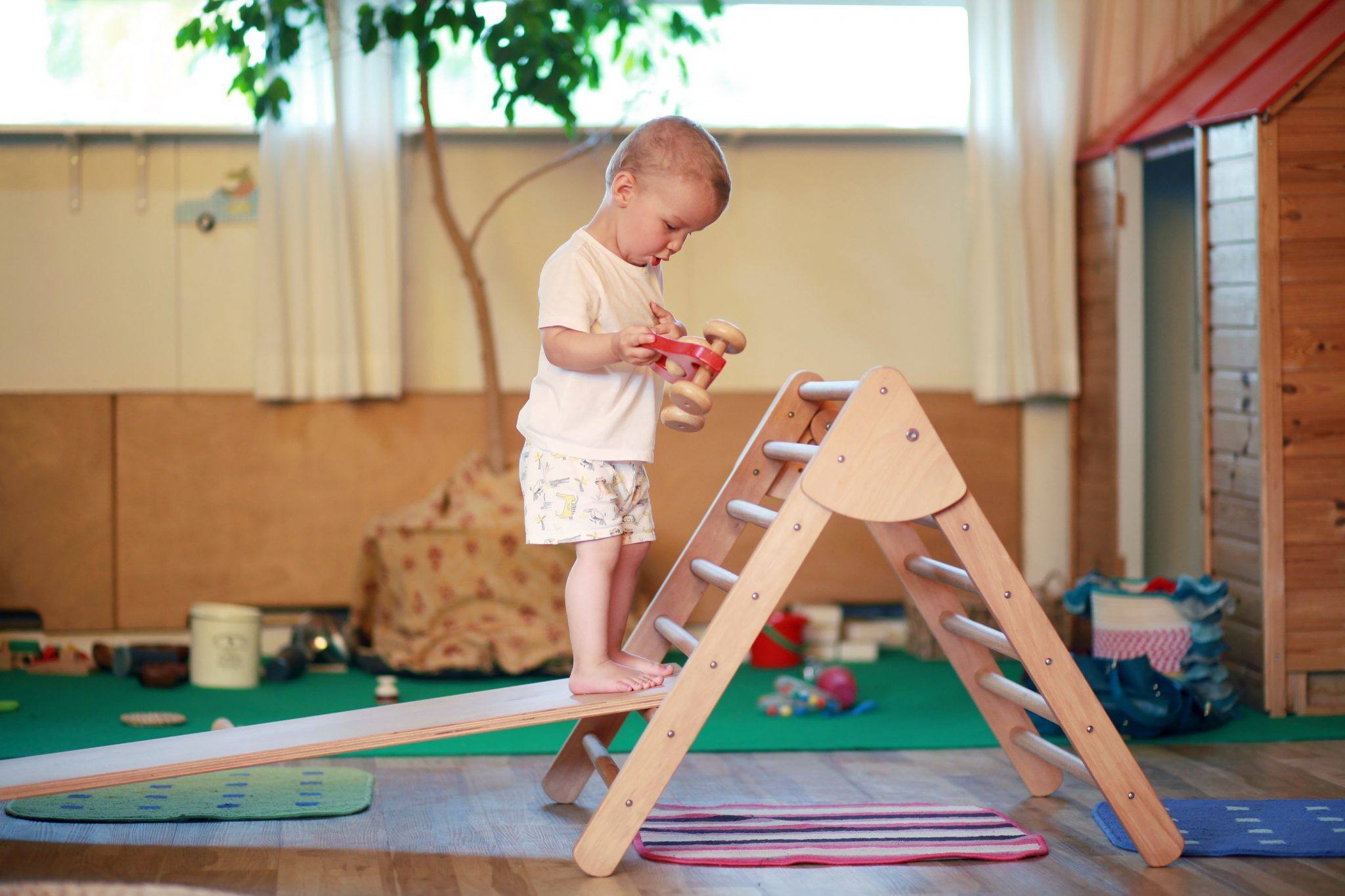 Adapting a Child's Room to Learning Purposes
The child usually plays and sleeps in the same room. As spacious as it may be, parents should consider equipping it with foldable furniture and sensory boards for the wall. In such case, there will always be a plenty of room for any playful activity.
There are several items that can be used in a playing room to the purposes of early learning. They are busy boards, a sensory wall for kids room, and foldable Pikler furniture. Traditional toys and board games are good for developing a child's EQ (Emotional Intellect) and logic. The wall décor ideas and triangles with steps and ramps are perfect for early learning and development. Their benefits are:
improved gross and fine motor skills;
better movement coordination;
better balance control;
basic Math skills;
knowledge of colors and their coordination;
acquaintance with different themes (animals, food, seasons, etc.)
Below we discuss the best wall decoration for kids rooms and special furniture to develop movement and balance.
Foldable Pikler furniture
These items are made of wood because it is a natural, durable and strong material and 100% eco-friendly. Normally we are talking about Pikler triangles. You can always find the one that fits the child's room. Being foldable, it does not occupy too much space and can be stored away.
Pluses of Pikler furniture:
100% natural and eco-friendly;
if colored, the paints are non-allergic;
come in different sizes;
may be customized to include ramps or ladders;
the height can be adjusted according to the child's age;
easily assembled and taken down;
can be used indoors and outdoors.
Practical results of Pikler triangles:
improved gross motor skills, balance control, and movement coordination;
your child learns to crawl, climb and walk;
additional features include arches, ramps and cubes.
We offer small and standard Pikler ladders for toddlers aged 1 to 4 and for children aged 4 to 8.
Sensory Wall Panels and Busy Boards
This is a very popular piece of furniture for a child's playing room. Sensory wall panels are aimed principally at toddlers who are only beginning to discover the world through shapes and textures. A traditional board is covered with zip locks, buttons, shoelaces, cuts of fabrics, wheels and items that are connected with them. By touching them and remembering their names, the child builds the vocabulary, learns to recognize these items outside the room, and develops motor skills and memory.
Sensory wall panels are perfect for preparing the child to kindergarten or school. They may be themed and focus on a specific topic. Below are some examples:
Candyland Sensory Wall introduces the child to counting, colors, different shapes and movements.
DIY Sensory Wall teaches the child to use different kinds of locks, use zips and buttons, discover letters, numbers and shapes.
An Activity Board with xylophone introduces the child to sound.
Busy Board Set Day Forest Story is a fantastic and colorful board that teaches the child about the animal world.
Pluses of sensory wall panels and busy boards:
100% eco-friendly;
Colored with non-allergic paints;
Easily transported and assembled;
May be customized to fit a specific age;
May focus on a specified topic;
Engage different aspects of learning (sound, touch, and vision).
All sensory panels can be mounted to the wall and used in different environments, not limited to home. Sensory walls are the best wall decoration for waiting rooms at pediatric clinics and children's dentistry. A sensory wall for kindergarten or preschool maintains the learning process outside of home, engaging children in the process of mutual learning. And a sensory wall for classroom will be good for small competitive tasks and learning the languages.
NOTE: we produce fully customizable sensory wall panels and ship them worldwide.