Have you ever wondered how modular Montessori furniture systems can revolutionize learning spaces for children? Join us on a journey to explore the myriad advantages that these innovative systems bring to Montessori environments.
The Benefits of Modular Montessori Furniture Systems are numerous and transformative. These systems have the power to enhance the learning experience, improve organization, and foster independence in children.
What are Modular Montessori Furniture Systems?
Modular Montessori furniture systems are a flexible and customizable solution for creating learning environments that cater to the unique needs of children. These systems consist of various modular pieces that can be rearranged and combined in different ways to create different learning spaces. From tables and chairs to shelves and play areas, each piece is designed to promote independence, exploration, and engagement.
Promoting Independence and Autonomy
One of the key benefits of modular Montessori furniture systems is that they promote independence and autonomy in children. By providing furniture that is child-sized and easily accessible, children are empowered to take control of their learning environment. They can choose where they want to work, how they want to arrange their space, and what materials they want to use. This sense of agency fosters self-confidence and a love for learning.
Supporting Active Learning and Collaboration
Modular furniture systems also encourage active learning and collaboration among children. With the ability to easily rearrange the furniture, educators can create different learning areas to accommodate various activities and group sizes. Whether it's a cozy reading nook, a collaborative project space, or an individual work area, the flexibility of these systems allows for dynamic and interactive learning experiences.
Enhancing Creativity and Problem-Solving Skills
Creativity and problem-solving skills are essential for a child's development. Modular Montessori furniture systems provide an environment that nurtures these skills by allowing children to explore their imagination and find innovative solutions. With movable furniture pieces, children can transform their learning spaces to suit their needs, encouraging them to think critically and creatively.
Creating a Sense of Ownership and Responsibility
By involving children in the process of setting up and arranging their learning environment, modular furniture systems foster a sense of ownership and responsibility. Children take pride in their space and are more inclined to take care of it, leading to a more organized and tidy classroom. This sense of responsibility extends beyond the furniture itself, as children learn to take ownership of their learning and become active participants in their education.
Facilitating Easy Adaptation and Expansion
Education is constantly evolving, and classrooms need to adapt to meet changing needs. Modular Montessori furniture systems provide the flexibility to easily adapt and expand learning spaces. As new materials and activities are introduced, the furniture can be rearranged to accommodate them. This adaptability ensures that the learning environment remains engaging and relevant, promoting continuous learning and growth.
Supporting Sustainability and Eco-Friendliness
In addition to their educational benefits, modular Montessori furniture systems also contribute to sustainability and eco-friendliness. These systems are often made from renewable and environmentally friendly materials, reducing the impact on the environment. Furthermore, the modular nature of the furniture allows for easy repair and replacement of individual components, extending the lifespan of the furniture and reducing waste.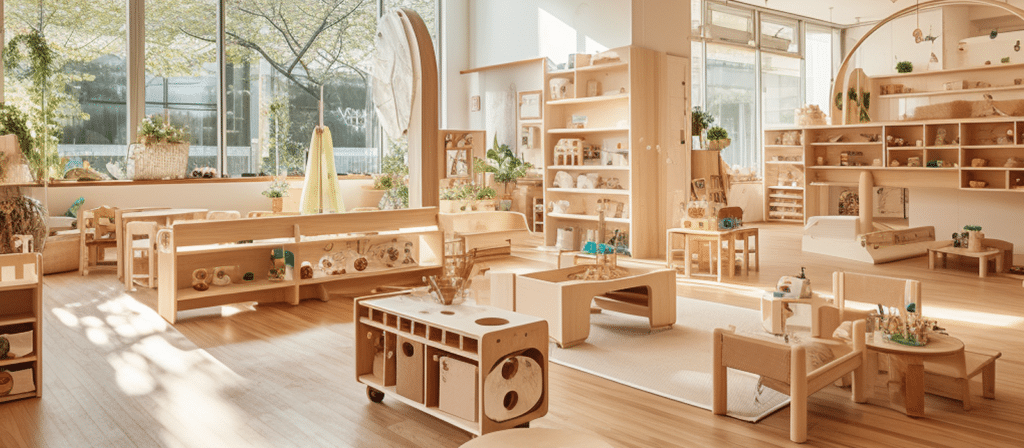 Encouraging Active Movement and Physical Development
Children thrive when given opportunities for active movement and physical development. Modular Montessori furniture systems are designed to encourage this by providing furniture that supports various postures and movements. From sitting on the floor to standing at a raised table, children have the freedom to choose the most comfortable and appropriate position for their learning. This promotes healthy physical development and enhances overall well-being.
Creating a Positive and Engaging Learning Environment
Ultimately, the combination of all these benefits creates a positive and engaging learning environment for children. By incorporating modular Montessori furniture systems into classrooms, educators can create spaces that inspire curiosity, independence, and collaboration. Children feel motivated to explore, experiment, and learn, leading to a more fulfilling and effective educational experience.
Conclusion
Modular Montessori furniture systems offer a range of benefits that enhance the learning experience for children. From promoting independence and collaboration to fostering creativity and problem-solving skills, these systems create a positive and engaging environment.